SDSU Library Collection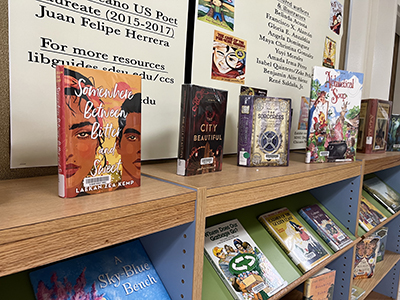 The National Center for the Study of Children's Literature (NCSCL) at San Diego State University (SDSU) has greatly influenced the purpose of the children's collections at SDSU Library. The collections are unique, special, and grand in scope and number. Some highlights include the collections of NCSCL's founder, Dr. Peter F. Neumeyer; Edward Gorey; Clara Breed; and the Historical Children's Book Collection from the San Diego Public Library. Many books for children are also found in the Library's robust Comic Arts Collection.

Circulating Children's Book Collection
Today, the circulating children's collection at SDSU Library is an international, multicultural, contemporary teaching collection, and a historical research collection of 29,281 volumes, 6,219 of which are picture books. Located on the fourth floor of Love Library, students may check out up to 100 books at a time and keep them until the end of the semester.


Children's Picture Book Use in the Classroom
SDSU teacher education students use SDSU Library's children's picture book collections to support their practice and these students benefit from the wealth of books for diverse populations and for those who speak, read, and write a variety of languages. SDSU opened in 1897 as the San Diego Normal School, a training facility for teachers. The Campus Laboratory School opened a children's library in 1903. The Campus Laboratory School closed in 1970, and the children's library holdings moved to the Malcolm A. Love Library. These were the seeds of this collection that would grow and develop to the present day.
Learn more about the history of the College of Education.

Rare Children's Book Collection in Special Collections
The Library also offers rare children's books for examination and study.
Learn more information on how to find rare children's books at SDSU Library.

Contact Us
Information about the children's collection or about conducting research in children's literature using the SDSU Library can be found here at the SDSU Children's Literature Research Guide. In addition, please contact children's literature/comparative literature librarian Linda Salem at [email protected] to get help with these circulating or special collections or with children's literature research using online sources.